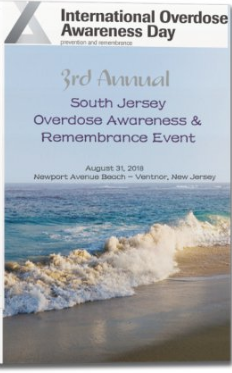 2018 Program
International Overdose Awareness Day Program
Program Advertisement Application
Application Deadline: August 1, 2019
Ad Placement is Based on Order In Which They Are Received
Saturday, August 31, 2019
Hosted by Recovery Force of South Jersey
            The 2019 South Jersey International Overdose Awareness Day Program will again serve as a tribute to local individuals who fell victim to the man-made opioid epidemic that has plagued our nation, taking some of it's best and brightest. The program will feature the names submitted for the remembrance event, include the evening's program, messages from key leaders in this fight and advertisements from individuals and organizations who support the people and families who have been directly impacted by the leading cause of accidental death, overdose. An ad speaks for itself and we welcome your participation.
How to Apply: Submit by completing the form below and sending it to us via the SUBMIT button.  
Anonymous Support: To support this event anonymously, please indicate in the space provided on the form
Deadline: Applications along with must be received no later than August 1, 2019.
Requests for additional information should be directed by email to: info@recoveryforce.org